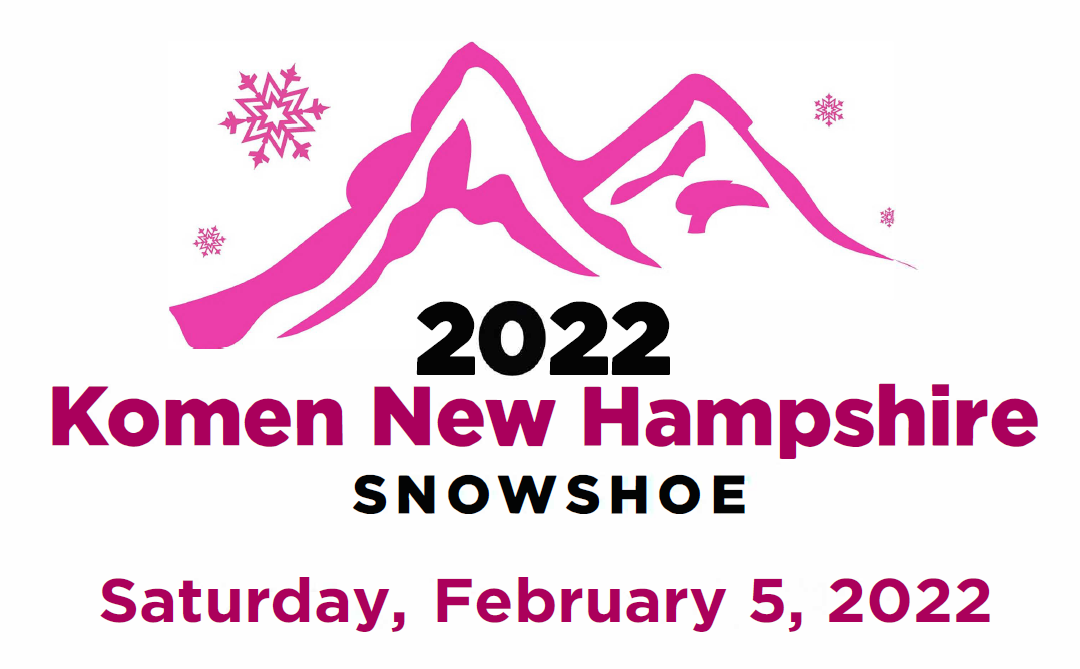 UPDATE FEBRUARY 3, 2022: Due to Winter Storm Landon and anticipated snowfall of several inches Thursday night into Friday, and the predicted very cold temperatures for Saturday morning, there will be no 2022 Komen New Hampshire Snowshoe "in-person" t-shirt pick up on Friday afternoon or Saturday morning at The Glen House, NOR at the Great Glen Trails Outdoor Center. No Komen personnel will be on site.
All event t-shirts for survivors and fundraisers have been mailed out this week.
Thank you for your understanding as we had to transition the event to "fully virtual". All NH Snowshoe questions should be directed to Linda Maness, Susan G. Komen, Development Manager, VT-NH: LManess@komen.org or 802-548-4691.
WAYS TO HELP
There are many ways to get involved with, and make a contribution to, the Komen New Hamphire Snowshoe. You can register to snowshoe "virtually" with your family and friends, start a team, fundraise, or even become a sponsor of this fabulous event. The 2022 Komen New Hampshire Snowshoe is for people of all ages and fitness levels as you #snowshoewhereyouare. By taking part in, and snowshoeing on, event day, you will be making an IMPACT, supporting research BREAKTHROUGHS and snowshoeing for the FUTURES of those who have yet to be diagnosed with breast cancer.
Through your participation and fundraising, Susan G. Komen is able to make an IMPACT by assisting families — no matter where they live.
Opportunities for BREAKTHROUGHS - through Komen's national breast cancer research program — are supported in part by event fundraising. Major advancements in breast cancer research may turn patients into survivors.
Komen protects FUTURES by making it our mission to end breast cancer forever and ensure that we don't lose another woman or man to this disease.
How will you help us take action?