Become a 2020 Snowshoe® - New Hampshire Sponsor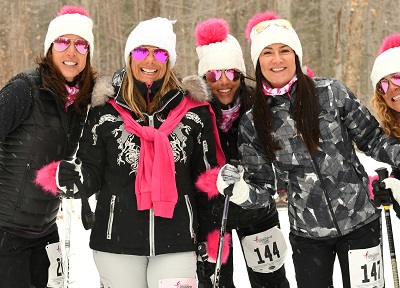 Each year, generous sponsors of Komen Snowshoe® (at Gunstock Mountain) help to provide the support necessary to fund breast cancer and community education, as well as screening and treatment initiatives throughout our service area to help those in need. Read the Sponsorship Invitation here.
Your support is critical to our local efforts. When you invest in a Komen Snowshoe® -New Hampshire sponsorship, you invest in the lives of the people closest to you the people of your community... your family, colleagues, employees, neighbors and friends. Up to 75 percent of net funds raised stays right here in New Hampshire and Vermont to support education, screening and treatment programs, and a minimum of 25 percent is contributed to Komen's national research efforts.
Partner with us to showcase your products, promote your services, connect to a loyal customer base or new audience, build employee engagement in the community, and to share our promise to end breast cancer forever.
For more information about how to become a sponsor, and to discuss your marketing goals and objectives, please contact:
Catie Fauvelle, Komen New England Vice President of Development , cfauvelle@komennewengland.org or at 774-512-0402