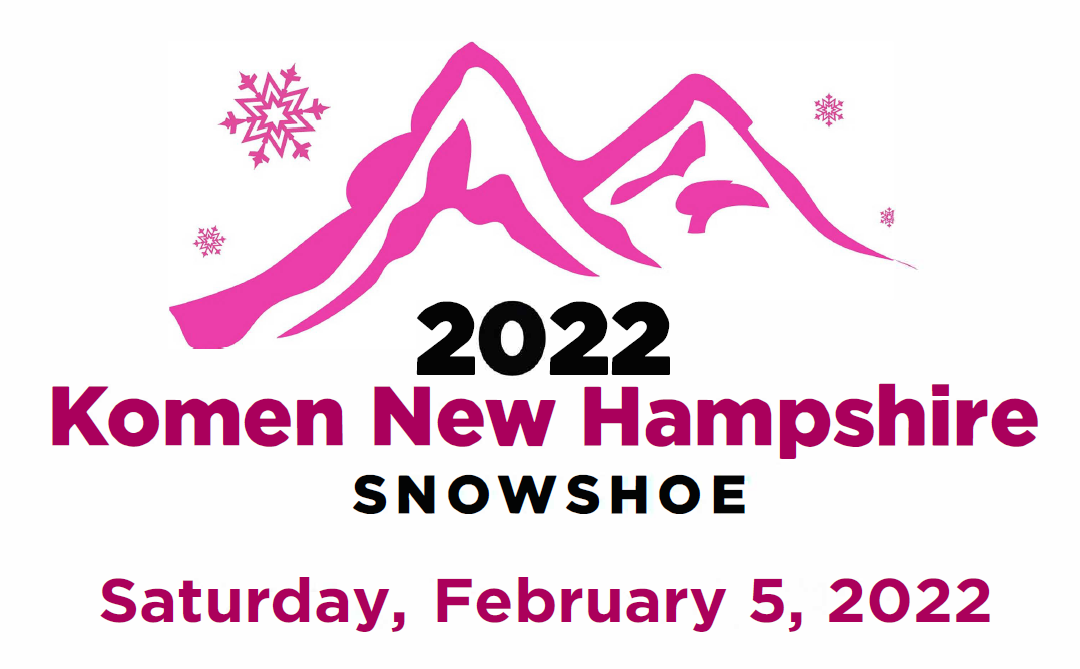 UPDATE FEBRUARY 3, 2022: Due to Winter Storm Landon and anticipated snowfall of several inches Thursday night into Friday, and the predicted very cold temperatures for Saturday morning, there will be no 2022 Komen New Hampshire Snowshoe "in-person" t-shirt pick up on Friday afternoon or Saturday morning at The Glen House, NOR at the Great Glen Trails Outdoor Center. No Komen personnel will be on site.
All event t-shirts for survivors and fundraisers have been mailed out this week.
Thank you for your understanding as we had to transition the event to "fully virtual". All NH Snowshoe questions should be directed to Linda Maness, Susan G. Komen, Development Manager, VT-NH: LManess@komen.org or 802-548-4691.
ONLY Virtual Registration Available as of January 28. Please note that ONLINE VIRTUAL REGISTRATION will close Friday, Feb. 4 at 11 PM.
No in-person registration available.
Click here for complete "Going Virtual" announcement.
Join our Facebook group: 2022 New England Snowshoe Events to stay on top of Snowshoe Announcements and Event Day Fundraising Recognition
ALL DAY:
Please share your New Hampshire Snowshoe photos from The Glen House in Gorham, or wherever you snowshoe, on your social media accounts, and in our Facebook group: 2022 New England Snowshoe Events. Please use #komensnowshoe22