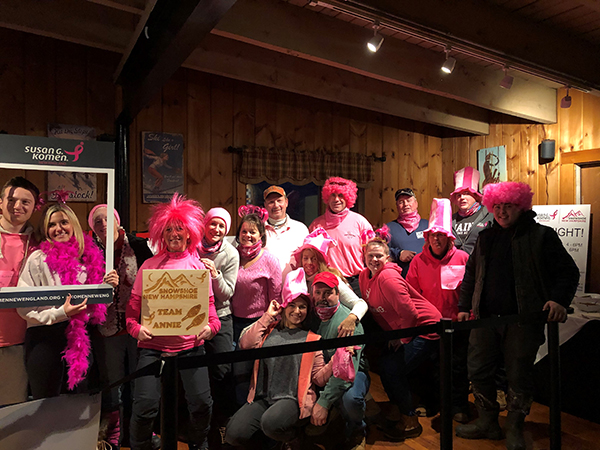 Steps to start or join a team today:
Select the team captain: The captain must register first and create the team before additional members can join.
Choose a team name that best fits your team. Be fun and creative here!
As we return to an in-person format this year, remember to invite friends, co-workers and family to join your team — and remember to invite those from further away to be virtual registrants! Email, Facebook, or Tweet everyone you know and invite them to register for the 2022 Komen New Hampshire Snowshoe.
Set up your personal team web page. After you register, log into your Participant Center to add a photo of your team, set a team fundraising goal and tell everyone why you are participating in the Komen New Hampshire Snowshoe on February 5, 2022.
Every snowshoe step you take and every dollar you raise brings us closer to a future without breast cancer. Because you're taking those snowshoeing steps with a team, you're multiplying your impact on the cause.
Team Captain Checklist
Once you've registered your Team, here are some next steps:
Make a self-donation in any denomination to show your commitment
Set a goal for the number of people you will recruit. Being a hybrid event, invite friends, co-workers and family - from any location - to join you near and far! Email, Facebook or tweet everyone you know and invite them to register to be a member of your team.
Share event/team information in your e-mail signature. Include the event name, your team name and your name, phone number, and/or email address so your family, friends and work contacts will know how to get involved.
Host a kickoff meeting or event and invite the Komen New Hampshire Snowshoe manager to make a presentation.
Send fundraising tips out to all your team members and highlight the team's top fundraising member.
Create fundraising incentives for your team members encouraging them to meet or exceed their fundraising goals.
Remind team members to log on to their fundraising personal pages to record all offline donations and send thank-you notes.
Update team members by e-mailing and posting a progress chart with your fundraising and recruitment goals on social media (Facebook, Instagram, Twitter).
Team Fundraising
Team fundraising helps ensure that we will be able to make the biggest impact in the community.
Here are two ways that teams can engage in fundraising:
Each team member asks their friends, family members and co-workers to support them in their fundraising efforts by making a donation.
Encourage team members to connect their Komen fundraising with Facebook. This should be done through a participant's Komen participant center.