Your generosity is a vital part of our fundraising efforts. Donations to Komen New England Snowshoe® - New Hampshire are tax-deductible and support local breast cancer education, screening and treatment programs here in Vermont and New Hampshire communities. Donations will be received through Monday, March 9th.
Donate to a Participant or Team: It's easy to make an online donation directly to a 2020 Snowshoe participant or team. Use the search below to get started:
2020 Snowshoe Participant or Team Search
Where Does the Snowshoe® Money Go? Up to 75% of the net proceeds raised through the Snowshoe® stays right here in New Hampshire and Vermont to fund breast cancer programs and 25% supports Susan G. Komen's national grants program to fund vital breast cancer research.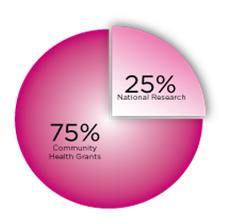 Visit our local grants page and read more about how the money you raise is helping local Vermont and New Hampshire women and families in need.
If you collected offline donations (REMINDER- checks should be made payable to: Komen New England - with memo: Snowshoe New Hampshire), you may bring theses donations to the registration tent on Event Day, Saturday, February 8, 2020 beginning at 9AM, or mail them (to arrive in our office by Thursday, February 6 to count towards fundraising awards):
Komen New England
2000 Commonwealth Ave, Suite 205
Newton, MA 02466.
PLEASE help us track your donations and thank your supporters for their generous gifts. Make sure you have completed a Fundraising Form and bring it with you event day, or send it with your mailed donations.
Fundraising Prizes
As a Komen New England Snowshoe®- New Hampshire fundraiser, we know you give your time, passion, and dedication to giving back to your community. We want to show you how much we appreciate your efforts and accomplishments in going "the extra mile" to make the biggest impact possible in the fight against breast cancer.
*Participants that raises $50 will receive a long sleeve Komen Snowshoe New Hampshire event t-shirt
*Participants that raise $150 & Up will receive a pink headlamp to use on the walk!
*The overall top fundraiser for the 2020 New Hampshire Snowshoe will be awarded a prize
All funds raised (online and offline) by 6PM, February 6, 2020 will qualify for fundraising prizes (NOTE: offline funds need to be entered online either by the participant or received by us as of Thursday, February 6 by 6PM). Feel free to email Linda Maness at lmaness@komennewengland.org for assistance.
Top individual fundraising prizes will be awarded on Event Day, Saturday, February 8, 2020.