When is Komen New England Snowshoe® - New Hampshire?
The Snowshoe will be held on Saturday, February 8, 2020. Registration opens at 4PM and the walk will begin at 6PM.
Where is the Snowshoe®?
The Nordic Trails of Gunstock Mountain in Gilford, New Hampshire. For directions to Gunstock Mountain, please visit their website – https://www.gunstock.com/discover/directions/.
Do I need my own Snowshoes?
Dion's Snowshoes of Bennington, VT will be supplying demo snowshoes for attendees to use for the event! Supplies are limited and are available on a first come, first serve basis.
How much is the registration fee?
Early Bird Registration (10/1-11/28) is $30 for Adults & Survivors, $15 for Youth
Standard Registration (11/29-2/7) is $35 for Adults & Survivors, $15 for Youth
Online registration will close Thursday, February 6 at 6 PM. In-person Registration will be available on Event Day, Saturday, February 8, 2020 at Gunstock Mountain.
PLEASE NOTE: All registration fees will go up $5 on event day, Saturday, February 8, 2020.
Is my registration fee tax-deductible?
No, your registration fee helps defray the costs of producing the event and is not considered tax-deductible. However, any amount that you choose to donate above the entry fee is tax-deductible.
What is included in the registration fee?
Registration includes refreshments before the walk and the opportunity to use a demo pair of Dion snowshoes.
How can I register?
You can register online by clicking here.
Once I am registered, how do I access my Participant Center? Click here: Participant Center entry
How far is the Snowshoe walk?
The snowshoe walk is a about 2.5 miles.
How can I become a volunteer?
The success of all Komen New England events depends heavily on the support we receive from our volunteers, both before the event and the day of the event. There are many ways you can get involved, for more information contact Linda Maness at lmaness@komennewengland.org.
Is this event subject cancellation due to weather?
Komen New England (as well as Gunstock Mountain) reserves the right to cancel or change the date or location of the Snowshoe® in its sole discretion, including in the circumstance of extreme weather. Of course, we do not expect this to be necessary. However, it is February in New Hampshire. Please dress accordingly, in layers and be prepared for cold!
Q. Are there accomodations available?
A. The Hampton Inn Tilton, about 10 miles from Gunstock, will have rooms available at a discounted rate for Snowshoe attendees! To reserve your room, follow these instructions:
Reservations can be made by calling the hotel directly at 603-286-3400, toll free 1-800-426-7866, or on line here. If booking online guests must enter the group code of KNH to receive the group rate. Guests must identify themselves as part of the Susan G. Komen New England Room Block in order to receive the group block rate. Rooms will be held in the Susan G. Komen New England Room Block until January 18, 2020.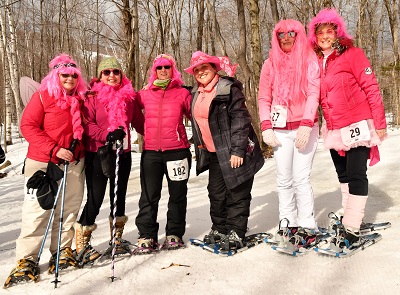 FUNDRAISING FAQ
Does my participation require fundraising?
You are not required to fundraise, but we do encourage all participants to fundraise above the entry fee.
*Participants who raise $50 or more will receive a long sleeve New Hampshire Snowshoe t shirt
*Participants who raise $150 or more will receive a pink headlamp that can be used on your twilight Snowshoe Walk!
Does the money raised stay right here in our community?
Yes! 75% of the net income from the Snowshoe stays right here in our community to fund vital breast cancer health education and breast cancer screening and treatment programs.
The remaining 25% supports Susan G. Komen's national research grants program.
Where do I send donations?
Checks and Money orders (please do NOT mail cash) should be made payable to: Komen New England (memo line: Snowshoe New Hampshire). Please mail your donations, with a completed fundraising form, to: Susan G. Komen New England, 2000 Commonwealth Ave, Suite 205 Newton, MA 02466. For donations on behalf of an individual participant or a team, please include that information with your check.
Is there a deadline for fundraising?
All donations on your behalf that are received by February 6, 2020, 6 PM, will be used to determing fundraising awards. Any donations received subsequent to that date will be credited to your participant center, but not in the determination of awards.
When will I receive my fundraising awards?
Your fundraising incentives are calculated based on the total fundraising dollars you have collected as of February 6, 2020 6 PM. All awards will be distributed day of the Snowshoe at Gunstock.
What are some ways I can fundraise for my team/my individual goal?
We have plenty of ideas on our Fundraising Tips page!
TEAM FAQ
How do I form a team?
It's easy (and fun!). You can form a team (at the time of your own registration) or join an existing team online, just click the appropriate link on our registration page. All teams require one team captain. For more information, contact us at 802-362-2733 or at lmaness@komennewengland.org.
What are the benefits of a team?
Forming or joining a team multiplies the fun you will have at the Snowshoe. You can create a team to celebrate a survivor or honor the memory of someone you have lost. You can also create a corporate team and get your entire company involved.
Do teams have to fundraise?
Teams are not required to fundraising, but we strongly encourage fundraising. Fundraising as a team can be fun.Click here to get a list of fundraising events your team can do.
One of my team members registered as an individual when they meant to join my team. How do they correct this?
Please contact Linda Maness at lmaness@komennewengland.org to get this corrected.
Can donations made to a team be split or shared among team members?
We are unable to split or transfer donations between individual and team accounts.
VOLUNTEER FAQ
Volunteers are the lifeblood of the Susan G. Komen New England Affiliate. Their passion and commitment is what makes our events successful and allows us to fund local breast health programs. Join us today in our mission to put an end to breast cancer forever.
Why volunteer?
It's fun. It's rewarding. And you'll meet some truly incredible people when you volunteer for the Komen New England Snowshoe New Hampshire. The success of our event depends heavily on the support we receive from volunteers in the months leading up to the event and at the event itself.
Who can volunteer?
Fun-loving, enthusiastic, hard-working and reliable individuals with a few hours available either before our event or on Feburary 8, 2020.
When can you volunteer?
There are two ways you can volunteer for the Snowshoe:
1. We are always looking for volunteers to help with pre-event planning, organization and marketing. If you are interested in helping us before February 8, please contact Linda Maness at 802 362-2733 or at lmaness@komennewengland.org.
2. Lots of volunteers are needed on Event Day at Gunstock Mountain to provide the best experience to our participants. Volunteer are needed for registration, course monitors, snowshoe demos, raffle ticket sales, and more - beginning at 3 PM and go through 8 PM. If you are interested in volunteering on Saturday, February 8, please email Linda at lmaness@komennewengland.org.